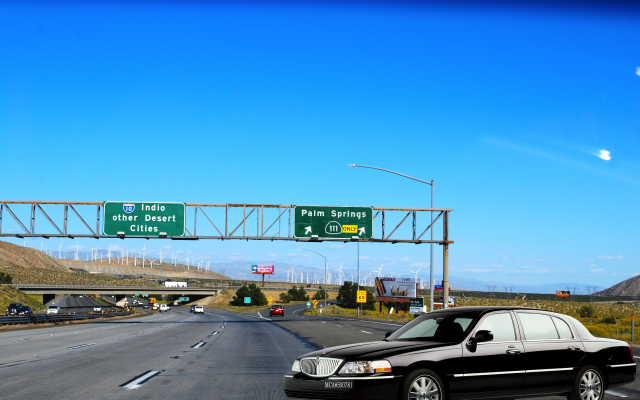 Indio is the second-easternmost city in Coachella Valley, located in-between La Quinta and City of Coachella. Palm Springs limousine services such as ours serve this city on a regular basis, offering everything from party bus nights to Temecula wine tours. Indio limo customers head to a variety of places in and around town. While many book their limos to visit Palm Springs, we also offer limousines to Los Angeles, Las Vegas and throughout most Southern California.
From barely having 14,000 residents in 1970, Indio has experienced an explosive population growth. The city is now amongst the largest in the valley with a population close to 90,000 as of 2017. From having fifty residents in 1896, the city has grown into a relatively large city. Indio limo services are used here for a variety of destinations, occasions and activities. Palm Springs Limousine Services recently transported clients from Los Angeles to Indio to go on a romantic hot balloon ride over the valley. These tours are particularly sought-after in beautiful Temecula Valley, a beloved limousine destination for wine tours and weddings.
Other popular limo destinations in town include a number of nicer restaurants, resorts, country clubs, golf courses and casinos. As one of the valley's biggest cities, Indio has more to offer than most desert communities. Nicknamed City of Festivals, it is its Coachella Valley Music & Arts Festival that gave the city its international fame. Other festivals include the nationally renowned Stagecoach-, Tamale- and National Date Festivals. Limo services are frequently used for transportation throughout Southern California to the festivals. Limo companies also visit the city's restaurants on a regular basis. Some of the Coachella Valley's best eateries can be found here, including popular limousine destinations such as Players Steakhouse, Frankie's Fresh Fish, El Campanario and Sloan's. TKB Bakery is the top rated restaurant in Indio according to reviewers on both Yelp and TripAdvisor. Palm Springs limo companies are often requested for clientele heading to town on dinner dates at the before-mentioned diners. Although Temecula Valley and its gorgeous wine country is just a short ride away, you can do great wine tasting at Players Steakhouse, which arguably offers the city's most extensive wine list.
Fantasy Springs Resort Casino is another trending limo port of call. The beautiful mountain views from the hotel rooms and the wine-tasting bar at the roof makes it worth a visit alone. And in addition to the gambling, the resorts also offers golfing and bowling. Not only being an Indio limo service, but also servicing all of Coachella Valley, makes us also able to service you at all other casinos in the area. Many order their limos from or to Fantasy Springs from other casinos in nearby Coachella or Rancho Mirage. We also offer price-match-guaranteed rides to Las Vegas with our Palm Springs limousine services. Besides limo services, we also offer party bus rentals. Party buses are popular for bar-hopping with friends and also wine tours and Vegas tours. Popular bars for limo bus hopping in Indio include Neil's Lounge, Tack Room Tavern, Big Rock Pub, Huerta's, and others.
As with Palm Springs and most of Coachella Valley, Indio has also been a popular place for the filming industry. Situated in California's Sonoran Desert, the area is often portrayed as the African Sahara Desert in various motion picture. The filming industry is old here, with classics such as the 1954 film Five Graves to Cairo being filmed here. Others include The Professionals (1966), Julie (1956), Blood of Dracula's Castle (1969), and numerous other old classics. More recent movies have also been made here. More recent films include Little Loopers (2015), The Desert Rose (2007), Player (2011), and Destruction Las Vegas (2013). While At the End of the Rainbow (1965) features desert scenes shot in Indio, Wild Angels (1966) features a battle with Mexicans filmed in town.
Having been a top rated Indio limo company for multiple years, you Palm Springs Limousine Services with your luxury transfers in Coachella Valley. Why not try one of our romantic wine tour getaways? Or maybe a limo bus night on town with the buddies? Whatever your destination and occasion in Palm Springs or anywhere else Southern California, Indio's best rated limousine service can get you there in style and in comfort.