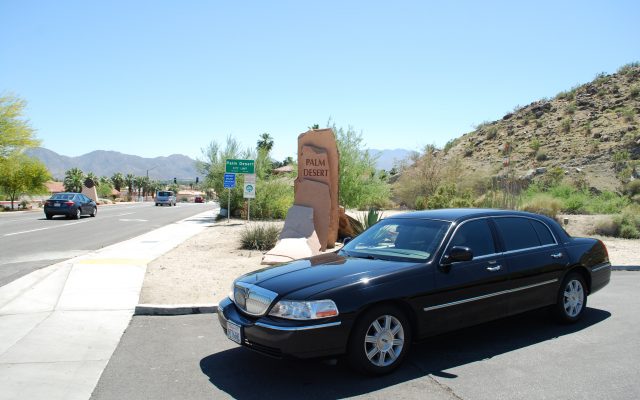 Palm Springs' twin city of Palm Desert lies tucked between Cathedral City, La Quinta and Bermuda Dunes. Palm Springs Limo Services have served the community for years, and we have proudly become the best rated Palm Desert limo provider. This community of barely 50,000 people is known throughout most Southern California for a variety of reasons. The valley's zoo, Living Desert, drags many limo clients. A bigger attraction however is Palm Desert's El Paseo Village. This is Coachella Valley's most popular shopping area, and a beloved Palm Springs excursion.
The town is loved by vacationers, and the city population rises by more than 30,000 during the cooler winter months. Tourists and locals alike book our limousine service in and surrounding Palm Desert. Some of the most popular attractions for our clientele in Palm Desert are a also a variety of resorts, restaurants and golf courses. With over thirty places offering golfing; golfing is a tremendously popular activity in Palm Desert. Visitors often book transfers from the Palm Springs Airport to their resorts in town. Some of Palm Desert's most popular places of accommodation include the Marriott Desert Springs Golf Resort, Marriott's Desert Springs Villas, The Westin Desert Willow Villas, Embassy Suites by Hilton, and others.
Customers from Palm Springs and elsewhere often book limousines or party bus vehicles when heading to restaurants and nightclubs in town. Some of the top eateries in town are LG's, Morton's of Chicago, La Spiga and Ristorante Tuscany at Marriott's Desert Springs. These are all popular limo destinations for dining. Other diners include Firecliff on El Paseo Drive, Chez Pierre and Cuistot. As with shopping, the best dining in town can be discovered around the happening El Paseo Village. The Gardens is just one of many places worth seeing here. Some of the boutiques and stores found there are Louis Vuitton and Tiffany & Co. A number of town's best bars, restaurants and shops are found at El Paseo.
The city has appeared in multitudes of television and film productions. Golfing sequences in Slipstream (2007) were shot here, and the resort at Desert Willow can be seen in About Fifty (2011). Driving scenes from It's a Mad Mad Mad Mad World (1963) and The Long, Long Trailer (1953) were also captured here. Other motion picture displaying town include They Made Me A Criminal (1939), Scammerhead (2014), A Thousand Cuts (2012), Adopt A Sailor (2008), Torque (2004), and many more.
Palm Springs Limousine Services is the top rated alternative for limo rentals in the City of Palm Desert. Trust us for your wine tour or Palm Desert limo ride!