Palm Springs To Las Vegas Limousine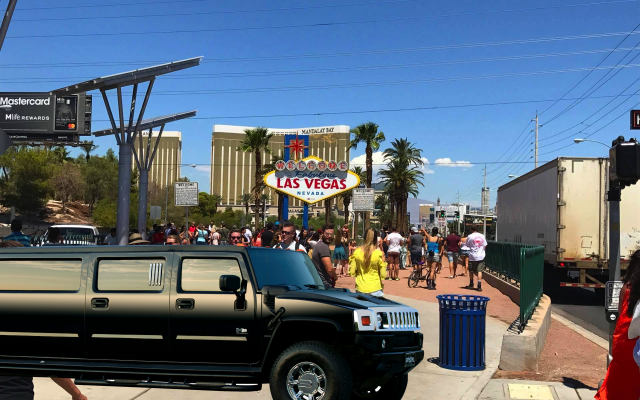 Palm Springs to Vegas has become an increasingly popular route for limo services. Why not party it up with a party bus or other luxurious and chauffeured vehicle? The long and incredibly boring ride through the desert has never been more fun. Party it up by blasting music and enjoying the comfort of a full bar on your desert journey. We can pick you up from any location in and around Coachella Valley, and safely transport you in elegance to Sin City. Start the partying early and truly enjoy your vacation!
Palm Springs Limousine Services has transferred clientele to Vegas for numerous years. Here we take clients to resorts, casinos, The Strip, and other Las Vegas destinations. Not only is the commute to Nevada a long one, but the seemingly endless desert landscape makes the driving even tougher. Customers renting limousines can enjoy drinking, sleeping, dancing and having fun during their desert getaway. Many limos will make a stop along the way, for example in Primm, Mojave National Preserve and other sites in the Sonoran- and Mohave Deserts.
Popular limo drop-off locations for passengers going from Palm Springs to Vegas include:
• Bellagio
• Luxor Las Vegas
• Mirage Volcano
• Stratosphere Tower
• The Strip
• The Venetian
• The Cosmopolitan
Furthermore, our limousines oftentimes make stops by the world famous welcome sign! This is particularly true when international- and domestic travelers utilize various Palm Springs limos. Many limousine renters often wonder whether they should buy airfare for their travels. While we do offer transportation services to all major airports in Southern California, including Coachella Valley, why not look at some of the perks of riding with a limo?
• Leave the boring and time-consuming drive to professionals.
• Focus on work or enjoy time with family or friends.
• Connect your phone to the state-of-the-art music system.
• Pre-game and enjoy the benefits of a full bar.
• Put on lightning shows and enjoy the dancing pool (in party buses).
• Make stops wherever and whenever desired.
• Arrive in Sin City in utmost style and comfort.
You have a variety of options when deciding a travel plan for your excursion. Try something new and indulge in true luxuriousness and extravagance. Limos in Palm Springs are fun enough, but get a whole new perspective when crossing state lines! Especially when leaving for a state where its Libertarian philosophies have led to legalized gambling, public drinking, prostitution, cannabis, and so on and so forth. The author is by no means encouraging any of the aforementioned activities, but then again, it is Las Vegas… Begin the festivities early with a memorable limo experience!
As with all Palm Springs rides, we offer an exclusive price-match-guarantee on all bookings. Our Coachella Valley limo services operate minor hubs throughout Southern California, and can serve all communities found therein. So whether you are in need of a local party bus, or maybe one going from Palm Springs to Las Vegas, you can trust our leading service for an unforgettable adventure.