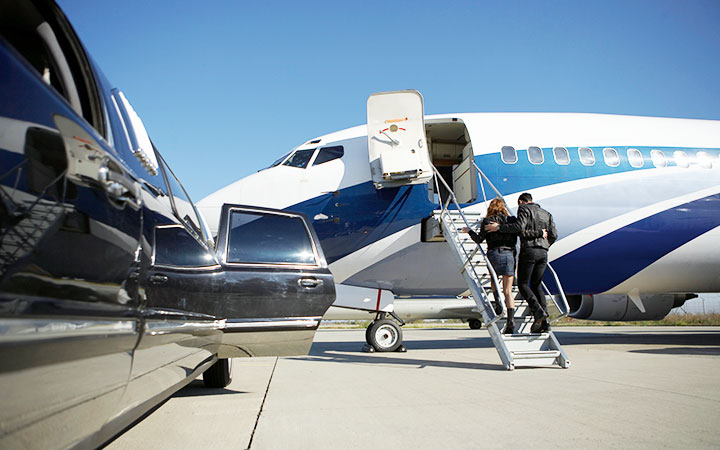 Airport Service
Bringing the glamour back to your airline travel.
Palm Springs Limo Service offers the widest variety of airport limo and car services. So don't schlep your luggage around in a taxi or shared shuttle when you can book any of our airport transportation services for close to the same cost. From executive limos and town cars to shuttle buses and airport vans, starting and ending your trip in style is easy, and surprisingly affordable. Happy travels!
Jump Start Your Vacation By Taking a Limo to the Airport.
While flying isn't fun anymore, you can start your trip in style by taking an airport limo. The airport limo service from Palm Springs Limo may even end up being the best part of the entire trip. We won't make you suffer the indignity of taking off your belt and shoes like in airport security. We won't treat you like cattle, as it can sometime feel when you're boarding a flight. We won't take advantage of you by using the "scenic route" like a taxi running up the fare. We won't ambush you like many of the hotels do with so-called resort fees. When you book an airport limo from us, you can trust that your trip to and from the airport will be uneventful. As you sink into the back seat of your limo, you'll be able to breathe a sigh of relief.
While an airport town car will get you to your flight without any hassles, upgrading to an airport limousine ensures that you'll arrive pampered and relaxed. From the enhanced privacy of an in-cabin partition to the tranquil relaxation of a bar stocked with water and ice, every seat in one of our airport limos is a first-class experience. If you're looking to start your trip with a party, nothing compares to blasting the entertainment system with your favorite music while soaking in the mood lighting.
You're in Control
It's your vacation and you can make the limousine trip to the airport as quiet or as energetic as you wish. You simply can't get that with taxi service. You can't get that with a regular airport shuttle. And you definitely can't get that kind of experience when you buy a ride from your unemployed brother-in-law. When you get to the airport using anything other than airport limo service, you can't wait to jump out of the car to get in line for the airline check-in counter. When you arrive in a limo at the airport, you almost wish that your ride could have lasted a few more minutes.
Roll Up like a VIP
Don't forget about booking an airport limo for arrivals as well. Why should airport limos be the sole domain of celebrities, CEOs and athletes? Vacation is a chance to let your hair down and have some fun. Treat yourself like a rock star and announce your airport arrival to the world. Just don't be surprised if the paparazzi start to take your picture. You must be someone special if you're leaving in an airport limo, right? Don't blame us if you end up on TMZ.
If you're a corporate road warrior who would like to liven up the mundane rigors of life on the road, don't feel left out. If you book one of our limos to the airport, you can enjoy all of the same benefits. Go ahead; it will be our little secret.

Top-Rated Airport Services
To ALL Southern California Airports!
Reliable, Timely, and Luxurious Airport Transfers